Customer reference
Nordforbrænding
To maintain predictability in a turbulent energy market is key to Nordforbrænding.
Risk minimisation at Nordforbrænding
Today, we recognise the consequences of changing energy prices and energy amounts much faster. Jens Bay, CFO, Nordforbrænding
I/S Nordforbrænding is a green company that protects the environment and takes pride in servicing more than 200,000 citizens living in the five partner municipalities. For this reason, the company is processing huge amounts of data about energy consumption and sales from a large number of reading systems.
From confusing raw data to useful reports
IBM Cognos Express from EG made it possible to automate the extraction of records from the AX-based ERP system and transform raw data to immediately usable reports. In short, the solution ties the production system and the financial system closer together.
Faster reaction to fluctuations in price
This way, Nordforbrænding saves time and has obtained a better and updated insight into the business. This is essential for a company operating in a highly competitive energy market characterised by major fluctuations in the price of e.g. electricity and gas – among other things, Nordforbrænding today responds much faster to sudden changes in the market.
Challenge
Nordforbrænding was lacking a coherent production and financial reporting system to provide an updated overview of the enormous amounts of data from the company's reading systems.
Solution
IBM Cognos Express from EG ties the production system and the ERP system closer together, for example by automating the work of collecting data and preparing reports.
Result
Nordforbrænding saves time, gets an overview of the importance of the changing energy prices and is able to react quickly to changes in market conditions.

Company information
Nordforbrænding is an intermunicipal environment and energy company specialised in energy production, waste incineration and district heating supply as well as reuse, recycling, deposit and special treatment of waste.
Web page
Contact us to learn more
Would you like to find out more about our products and services? Contact our team of experts, and tell us about your business needs and how we can help you.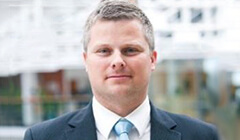 Vice President, Digital Solutions Sales Scandinavia
Michael Weis