Maximum uptime of Microsoft Dynamics ERP
EG Business Care gives you accurate knowledge of:
Why Dynamics 365, AX or NAV is not running optimally
Where and when "queues" and delays occur
When services are available and not available.
Read more
Availability, performance and capacity of your Dynamics solution
EG Business Care monitors the availability, performance and capacity of your Dynamics ERP solution.
It identifies the exact reason for e.g. breakdowns, slow performance, sign-in issues and delayed batch runs. If anything needs your attention, you will receive warnings.
In short, EG Business Care gives you updated and accurate knowledge of all factors that prevent you from getting the full benefits of your Dynamics ERP solution.
Accurate knowledge and complete overview
EG Business Care gives you:
Specific and operational insight into your Dynamics AX or NAV solution
An overview of the total capacity and performance of the system
Easy prediction of capacity requirements based on the current use and growth pattern
A fact-based foundation for prioritising processes and investments
The best foundation for ensuring high quality of performance and availability.
EG Business Care is defined on the basis of the ITIL framework.
The EG Business Care team's in-depth insight and understanding of the platform saved our company from a potential breakdown. Christina Petersen, CFO, Nilan
How does EG Business Care work?
Built on EG's long-standing and extensive knowledge of Microsoft Dynamics
Delivered as a service so you can get started quickly
Includes a browser-based, graph-oriented and role-based dashboard with drill-down functionality
Gathers information from a large number of services centred around capacity, performance and availability
Provides a current and a historical overview
Works smoothly with Dynamics AX and NAV.
See your options with EG Business Care
Innovation Partner of the Year for 2015
EG was awarded the title of Innovation Partner of the Year for 2015 at the Microsoft Partner Awards.
"EG Business Care is an innovative combination of services that monitor, collect and analyse activities in the company's Dynamics system. In this way, we proactively ensure that performance, availability and capacity issues in the ERP system are identified and avoided."
Bo Olesen, product manager for EG Business Care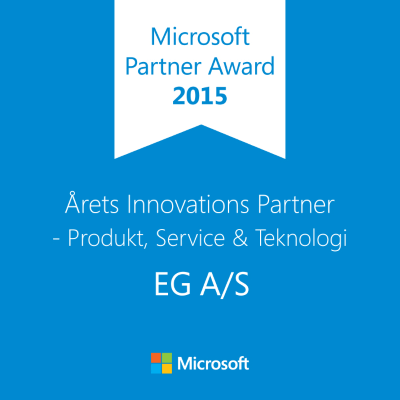 Contact us to learn more
Would you like to find out more about our products and services? Contact our team of experts, and tell us about your business needs and how we can help you.