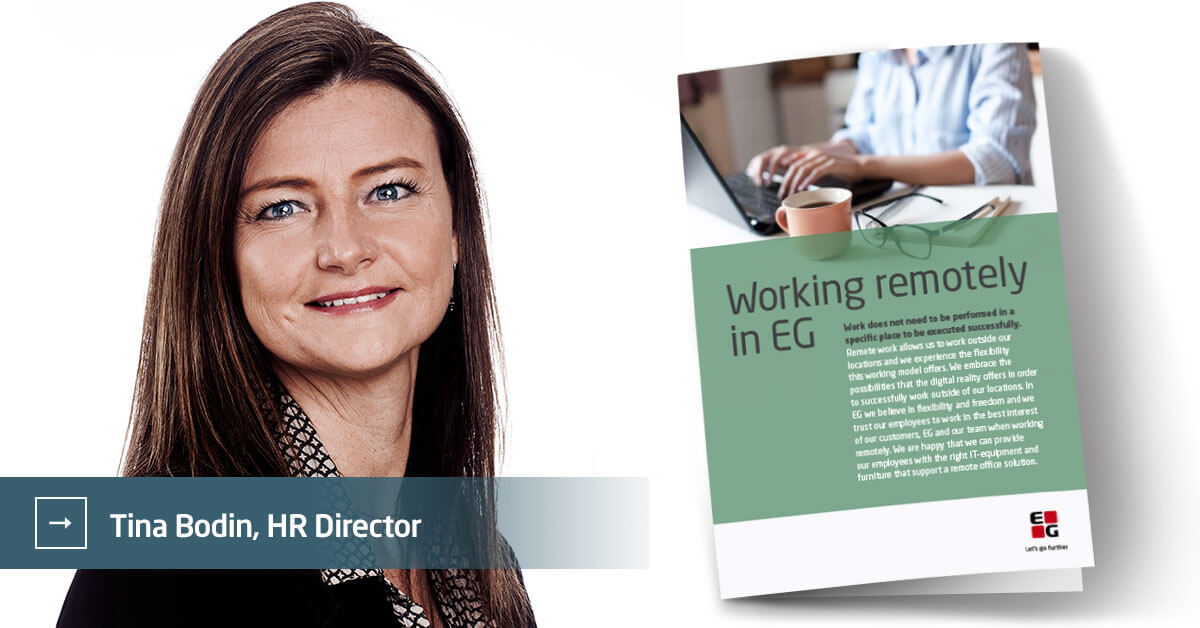 04. December 2020
The workplace of the future is flexible and digital – EG included
EG A/S has introduced a new Work From Home policy that gives employees the opportunity to work much more from home.
The policy, 'Working remotely in EG A/S', states that what matters is completing the tasks as effectively as possible – not where these tasks are carried out.
"If it's best for our customers, EG and the team, for example, that you come into the office for two days, then that's what you should do. But if the tasks can just as well be done from home, then that's fine too," explains Tina Bodin, HR Director, EG A/S.
In general, the new policy does not set strict rules but rather builds on good advice, guidance and general guidelines.

Putting customers first
The new policy applies across EG and is based on positive feedback from customers and employees:
"We are convinced that greater flexibility in our daily work benefits both our customers and our employees. Basically, it's about creating value for our customers, and if we are able to combine better quality and service with the greatest possible flexibility in our working day, then this is optimal for everyone," says Tina Bodin:
"Fortunately, we have some extremely responsible and independent employees who can take on this kind of responsibility," she continues. Tina Bodin emphasises that although it is up to the individual managers to determine the precise scope of working from home, it is entirely voluntary for the individual employees if they wish to take advantage of the opportunity:
"We're not forcing anyone to work from home, but we want to help make the working day as flexible as possible for our employees."

Working from home is an essential element in the workplace of the future
The new attitude towards working from home has been driven by the COVID-19 pandemic, during which the majority of employees have worked from home. This is not the only reason for the new attitude towards working from home at EG, however:
"We've been assessing both the advantages and disadvantages of increased working from home for quite a while now, and it has been interesting to test in practice what extensive use of a Work From Home policy means for our ability to deliver the service and solutions which our customers expect and are entitled to.
It has also provided us with useful knowledge about how working from home affects employees. The solution we have chosen now is therefore one which will continue into the future. The flexibility offered by working from home is an essential element in the workplace of the future, which takes our customers, EG, teams and the individual employee into account."

Following developments closely
"With this initiative we are pushing for a change that we do not yet know the consequences of. While we see a number of advantages in the short term, we will also be following developments closely in order to gain a better understanding of how it affects our culture, our cooperation and, not least, all of us as individuals in the long term.
Whether we work from home or at one of our 20 locations in Denmark, Norway, Sweden and Poland, we want to be our customers' preferred supplier and the best workplace for our employees," concludes Tina Bodin, HR Director, EG A/S.