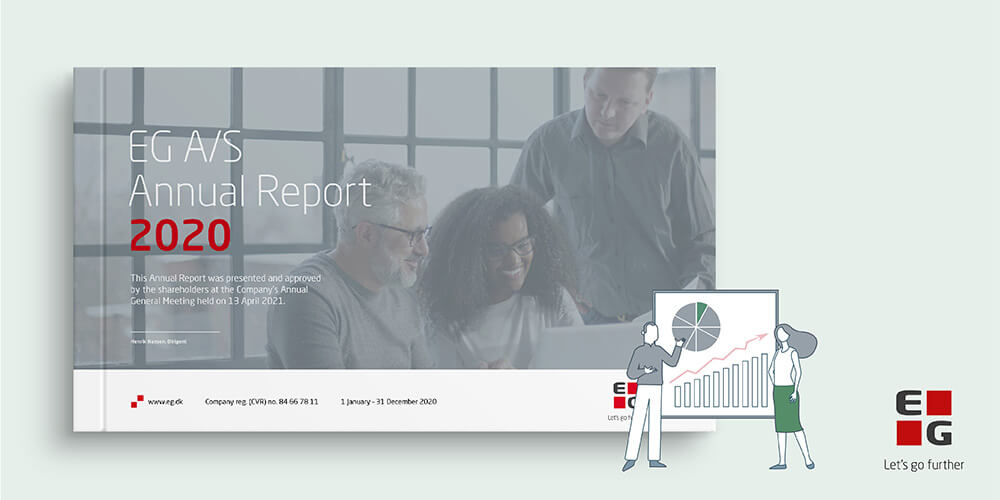 23. April 2021
EG executes on its strategy and increases revenue by 15% in 2020
EG continues to grow in pursuit of its mission to deliver market leading vertical software. Revenue increased by 15 percent in 2020 to DKK 1,439 million and operating income rose by 20%. The top line was positively affected by eight acquisitions of successful software companies in 2020, and the digital transformation accelerated by the COVID-19 crisis is also reflected positively in the results.
The Danish software company EG A/S is now at the end of a three-year transformation that has fundamentally improved the company's capabilities and market position. EG has invested in a common operating model that efficiently integrates and improves the companies it acquires and continues to execute on an ambitious acquisition strategy.
According to EG's CEO, Mikkel Bardram, the 2020 results show that the strategy works and that the organization is on the right track:
- We are very pleased with a 15 percent increase in revenue and 20 percent increase in operating income in a year that has not only been challenging for us, but also for many of our customers because of COVID-19. We have invested in eight successful companies adding many new colleagues, while our business has adapted to the situation with great flexibility. We are achieving great results, says Mikkel Bardram, CEO of EG.

EG has strengthened its market position
EG has experienced growth within subscription software (SaaS), especially within the construction, health, and utility industries. The investment in a new internal operating model across EG has increased efficiency and improved the software solutions for the customers.
- Our strategy is to build market leading vertical software, which especially appeals to the companies that have accelerated their digital development during the pandemic. One of the areas where we saw growth in 2020, and we expect to see continued growth in the years ahead, is our subscription software, which give companies the ability to digitalize and achieve efficiencies without committing to large upfront investments, says Mikkel Bardram.
EG will continue its mission to deliver market leading software with the aim to enable its customers to become industry leaders.
- In 2020, our organization has proven that we can carry out a major transformation and deliver impressive results – both for ourselves and for our customers. We will continue to improve our operating capabilities and look for great software companies to strengthen our customer offerings, just as we expect to maintain the same pace in our growth, concludes Mikkel Bardram.

About EG
EG delivers vertical software that helps our customers move their businesses further.
EG has more than 1,500 employees working from locations in Scandinavia, Poland and India. We develop, deliver and service our own software to 21,000+ customers in the private and public sectors.