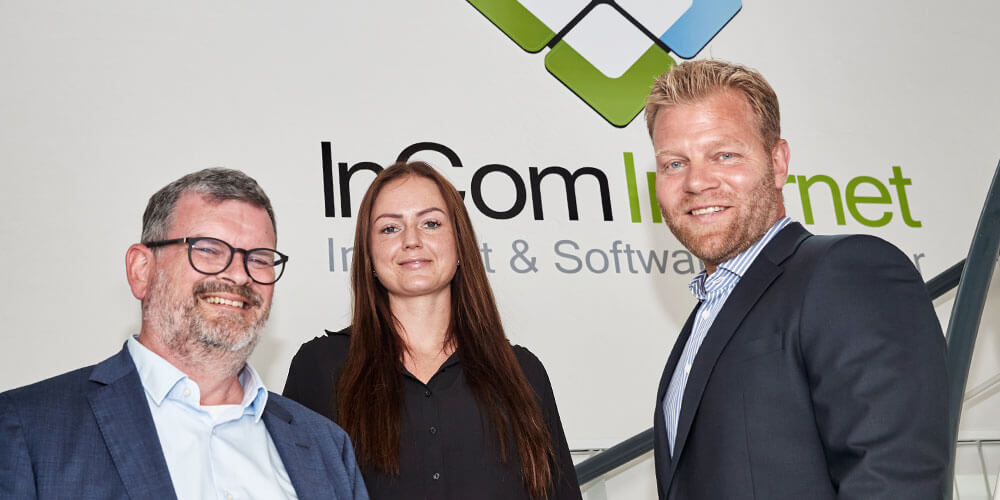 10. August 2021
EG acquires InCom and invests further in solutions for the housing industry
EG acquires the Danish proptech company InCom, and strengthens its position as a supplier of agile industry software for housing administration.
"We know InCom very well as skilled colleagues. They are recognised for their agile and innovative solutions that fit perfectly with EG's existing housing solutions. This is an acquisition that offers our housing customers even more opportunities to manage the administrative processes easily and share information with their residents securely," says Mikkel Bardram, CEO of EG A/S and adds:
"With our acquisitions in the construction industry, within the utility sector with a focus on reducing energy consumption, and now in the housing sector, we see the prospect of tying data and processes together across the industries. In all three sectors, data can be used to make better decisions and reduce resource consumption."
Currently, EG has more than a million users in its housing division. With several strong housing industry solutions under one roof, it becomes even easier for housing administrators to maintain all communication and administration together in one place, together with intuitive industry software that can handle large amounts of data and meet industry requirements.

EG's software handles the most important aspects of housing administration
BoligExtraNet is InCom's core industry solution for the general and private housing sector. 120 modules give housing customers flexibility and opportunities to handle data to and from many sources in their own individual template, including via API.
"With both InCom and EG ProBo solution, we now have a fantastic opportunity to create value for housing administrators, tenants and residents alike, says Frank Kragelund Hansen, VP, EG Bolig and continues:
"Together, our solutions cover the most important aspects of housing administration, from the purchase and sale of flats, waiting lists, moving out, inspection, maintenance, resident communication, Annual General Meetings, compliance, self-service and much more."
Since 2010, EG and InCom have collaborated on joint tech projects for major housing administrators. In autumn, EG acquired the proptech company Prosedo, strengthening the housing support structure with even more new technology.
The management and employees of InCom will continue as part of EG's housing division at EG A/S.

Regarding the choice of EG as owner, Stefan Max Jensen, CEO of InCom, says:
"EG represents the breadth and depth of the industry and has the solidity that is necessary for us to be able to offer our customers the most intuitive solutions in the housing industry. We both care about the customer's experience and know their needs. EG is a natural choice and I look forward to continuing our excellent cooperation."
Stefan Max Jensen is responsible for merging InCom and Prosedo into one unit with a focus on further development of the entire area within self-service and communication in close interaction with EG's existing product portfolio within housing administration.
EG acquired InCom ApS on July 1, 2021. The seller and the buyer have agreed not to disclose further details concerning the sales price and other terms of the transaction.

About EG A/S
EG delivers vertical software that helps our customers move their businesses further. EG has more than 1,500 employees, working primarily from locations in the Nordics and a shared development center in Poland.  We develop, deliver and service our own software to 21,000+ customers in the private and public sectors. 
About InCom ApS
The IT company develops and optimizes app and web solutions for the housing sector; for rental, operation and maintenance as well as management and finance. BoligExtraNet is InCom's core industry solution for the general and private housing sector. The company was established in 2010, has 17 employees and is based in Herning, Denmark.
Find out more at https://incomit.dk/

For further information, please contact:
Frank Kragelund Hansen, VP, EG Bolig, EG A/S, +45 5365 1504 / frkha@eg.dk
Stefan Max Jensen, CEO, InCom ApS, +45 2628 9966 / sj@incom-it.dk