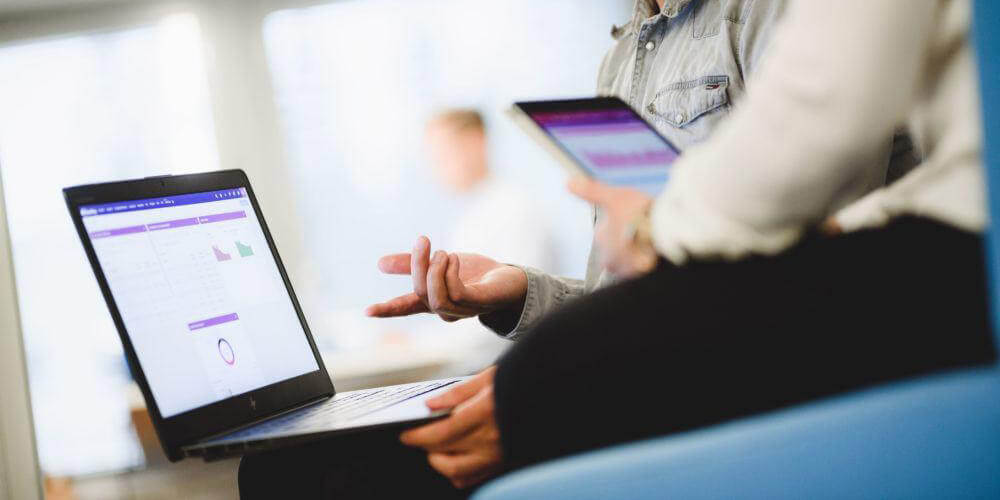 23. February 2021
Oulun Energia to provide market-leading sustainability and energy management solutions for its enterprise and public sector customers
To support sustainable development and to achieve carbon neutrality goals, Oulun Energia has started a partnership with EnerKey, the leading Nordic provider of sustainability and energy management SaaS solution. The cooperation guarantees Oulun Energia's corporate customers better tools for reducing the carbon footprint of their business.
Among the first Finnish energy companies, Oulun Energia has taken determined steps towards carbon neutrality for years now. The goal for Oulun Energia is to be carbon-neutral in terms of its own energy production by the year 2035. The latest example of their dedication to sustainability is their brand-new product of carbon-neutral district heating. The new product is based on bioenergy from power plants, waste or surplus heat from industry, datacenters and grocery stores by connecting heat pumps to district heating network in an innovative way.
During frosty weather it is even cozier to curl up in the corner of the sofa at a home by knowing that your home is heated using carbon-neutral district heating. Oulun Energia's customers can now choose to have district heating that is fully carbon neutral.
"We produce carbon-neutral district heating with renewable energy sources nearby at Oulun Energia's own powerplants. In addition, we utilize surplus heat from several sources," explains Kimmo Alatulkkila, Director of Heat Services at Oulun Energia.
Customers that require cooling, such as grocery stores, the surplus and waste heat is utilized in the district heating network.
"Our district heating customers can be confident that the heating energy they buy is guaranteed to be carbon-neutral as its origin is verified by an external auditor," continues Kimmo Alatulkkila.
Today companies are required to adapt the change in environment and being sustainable in their operations is the key to success. The Paris Climate Agreement and emissions trading affects every company that emits carbon dioxide.
By the help of the Powered by EnerKey, sustainability and energy management services offered to Oulun Energia's corporate customers can clearly highlight the environmental impacts of their own business operations. Therefore, enabling continuous efforts to reduce their environmental impacts. One of the biggest emitters of carbon dioxide is the form of energy used to heat buildings. The use of carbon-neutral district heating significantly reduces the size of a company's carbon footprint.
"Nowadays, a carbon-neutral future is the strategic goal of many companies. Fortunately, sustainability is considered as a goal of almost all companies. To support these goals, companies need multidisciplinary and extensive support from both energy companies and the service sector. In terms of heating, carbon-neutral district heating is a fine and concrete step towards the goal, but it also requires a wide-ranging effort to improve energy efficiency and renewable energy investments. With this cooperation, we can bring Oulun Energia's customers the market-leading tools for promoting energy efficiency and sustainability and build a carbon-neutral future," comments EnerKey's Jaakko Huhta, Vice President, Sales and Business Development.

More information:
Oulun Energia Oy, Kimmo Alatulkkila, +358 40 640 3441, kimmo.alatulkkila@oulunenergia.fi
EnerKey Oy, Jaakko Huhta, +358 400 292 257, jaakko.huhta@enerkey.com

Oulun Energia
The foundation of Oulun Energia is in energy production and heat and electricity transmission. In addition, we are now creating a new foothold in the circular economy. We develop smart and energy efficient energy solutions for the benefit of our customers. We are aiming towards carbon-neutral energy production by the year of 2035. Oulun Energia employs about 300 energy professionals and our goal is to be the most energetic workplace in Finland. We take responsibility for both people and our environment – it is important to us that future generations can be proud of our work and the results achieved.
In addition to the parent company Oulun Energia Oy, the group includes Oulun Energia Siirto ja Jakelu Oy, Oulun Energia Urakointi Oy, Turveruukki Oy and Huoltovoima Oy.

EnerKey
EnerKey Sustainability & Energy Management System (SEMS) is the Nordic region's leading cloud-native SaaS solution for enterprises to manage resource data, energy consumptions and sustainability. It holds ISO 50001 and ISO 14001 certification. The sustainability features include emissions reporting, waste reporting, traffic fuel monitoring and indoor air quality. EnerKey´s built-in intelligence feature, Ines, automatically finds energy and emissions saving potentials from property consumption data.
EnerKey SEMS is used by more than 1,500 of our customers. EnerKey manages resource data generated by more than 140,000 measurement points across 20,000 properties. Powered by EnerKey is a white label platform solution for energy companies and SaaS providers, who want to offer EnerKey´s market-leading tools to their end-customers, branded with their own logo and visual appearance.