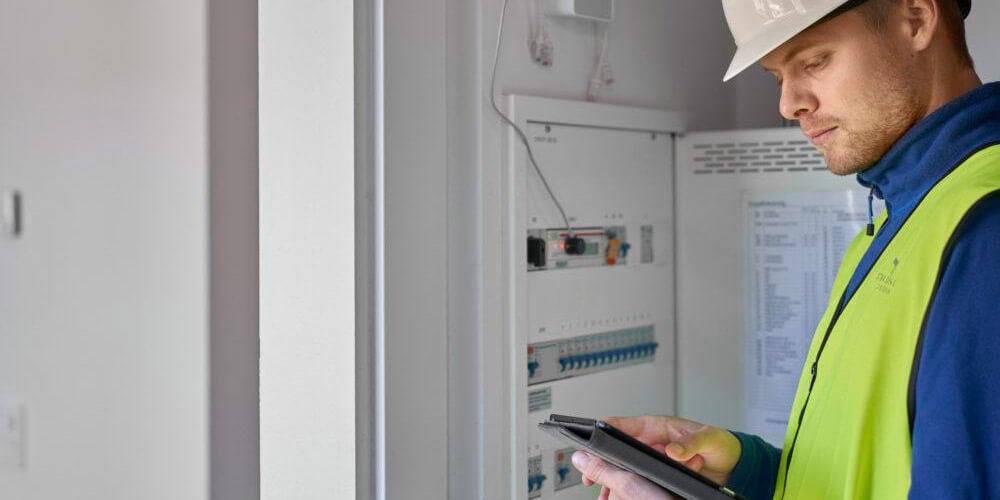 11. February 2021
Visma Tampuuri, Kamstrup and EnerKey into a cooperation – simplifying water invoicing for residential properties
Visma Tampuuri, Kamstrup and EnerKey work together to provide residential property sector with an effortless service package that enables consumption-based water invoicing by combining the market leading solutions. The aim of the cooperation is to position the service package as the standard solution for the Finnish market. International expansion possibilities are also being actively explored.
According to the EU Energy Efficiency Directive set in 2018, water invoicing for residential properties must be apartment-specific and based on real consumption. The invoicing is based on both, the water consumed, and the energy used to heat it. Information on water and energy consumption must also be provided to the resident.
The Finnish Parliament passed a law based on the EU Energy Efficiency Directive in November 2020. In future, apartment-specific water meters must be used as the basis for invoicing. In Finland, the installation of water meters became mandatory in new buildings in 2011 and in connection with renovating residential properties in 2013.
"For many of our customers, this legal reform means changing their current practices. We want to support our customers and continue to make water invoicing easy and straightforward. The partnership with EnerKey and Kamstrup makes this possible in the best possible way," says Erkki Ahonen, Visma Tampuuri's Partnership Manager.
The cooperation consists of three different areas, which are packaged seamlessly for the customers. Kamstrup designs and implements the necessary measurement solutions for water reading and consumption data collection. EnerKey provides the platform for energy management, data visualization and automated consumption alerts. The services are provided to the end customer through Visma Tampuuri's comprehensive property management, which includes tenant management and water invoicing services.
"The new EU regulation is being implemented in national legislation, with the aim of improving consumers' opportunities to influence the sustainable use of energy and water. What you can measure, you can also manage. Monetary costs act as a good consultant in sustainable resource consumption. The service package, designed and implemented in cooperation, is an easy turnkey solution answering the needs of forerunners in the residential property sector," states EnerKey's Jaakko Huhta, Vice President, Sales and Business Development.

More information:
Visma Tampuuri Oy, Erkki Ahonen, +358 40 746 3263, erkki.ahonen@visma.com
Kamstrup A/S Finland filial, Olli Torikka, +358 40 900 2108, oto@kamstrup.fi
EnerKey Oy, Jaakko Huhta, tel. +358 400 292 257, jaakko.huhta@enerkey.com

Visma Tampuuri
Visma Tampuuri is the market leader in property management solutions in Finland. By developing our Tampuuri software we help our customers to digitalize their property management processes. Tampuuri is used to manage more than one million homes. More than two million Finns live, work, or enjoy their hobbies in a property that is managed using Tampuuri.
Visma Tampuuri is a part of Visma, a leading European supplier of business-critical software to companies of all sizes, organisations and the public sector. In Finland, Visma holds over 100,000 customers served by 14,000 experts. Read more about Visma Tampuuri

Kamstrup
Kamstrup is world leading manufacturer of system solutions for smart energy and water metering. Through our leadership, expertise and passion for partnership, we always think forward in pursuit of a brighter energy future; one that advances the performance of every customer, whilst creating lasting value for the communities they serve.
Read more about Kamstrup

EnerKey
EnerKey Sustainability & Energy Management System (SEMS) is the Nordic region's leading cloud-native SaaS solution for enterprises to manage resource data, energy consumptions and sustainability. It holds ISO 50001 and ISO 14001 certification. The sustainability features include emissions reporting, waste reporting, traffic fuel monitoring and indoor air quality. EnerKey´s built-in intelligence feature, Ines, automatically finds energy and emissions saving potentials from property consumption data.
EnerKey SEMS is used by more than 1,000 of our customers. EnerKey manages resource data generated by more than 100,000 measurement points across 15,000 properties. Powered by EnerKey is a white label platform solution for energy companies and SaaS providers, who want to offer EnerKey´s market-leading tools to their end-customers, branded with their own logo and visual appearance.
Read more about EnerKey