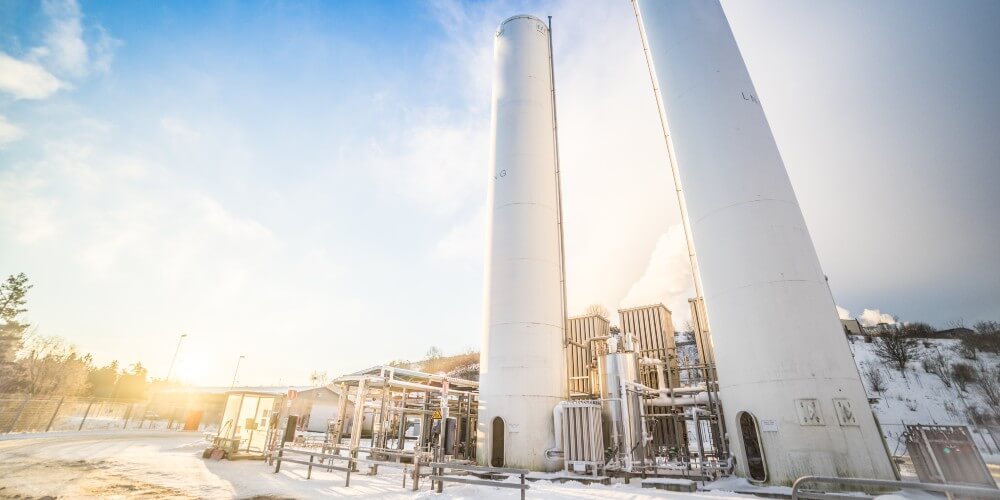 28. January 2021
Stockholm Gas AB and Gasnätet Stockholm AB choose EG as their partner and service provider
Stockholm's gas suppliers, Stockholm Gas AB and Gasnätet Stockholm AB, have chosen to enter into an agreement and partnership with EG Utility. The agreement covers a total service delivery within invoicing, contract management, measurement value management, market communication etc. in the Swedish gas market.

The service is delivered with EG's Xellent solution, which is based on Microsoft Dynamics 365. EG Xellent 365 is a multi-utility solution that supports all utilities such as gas, electricity, heating, fibre etc. for the Nordic gas and energy market.
"We have carefully reviewed the market to find a partner. We attached great importance to moving our customers from previous systems safely while maintaining efficiency and a high level of service to them. We have concluded that EG Xellent D365 and EG as suppliers are the right partners," says Karl Oskar Apel, Communications Officer, Gasnätet Stockholm & Stockholm Gas.
"For us, it is important that our partner understands the industry and can help us further on our journey towards increased digitalisation and efficiency with a focus on the customer. We look forward to working with EG Sweden," says Karl Oskar Apel, Communications Officer, Gasnätet Stockholm & Stockholm Gas.
Scandinavian supplier EG is proud to take over responsibility for Stockholm's gas customers:
"We are very proud that Stockholm Gas and Gasnätet Stockholm have chosen EG as their partner and EG Xellent D365 as their solution," says Rasmus Dalby Martinussen, Director, EG Utility.
With the agreement, EG Utility is expanding its service delivery by an additional 60,000 gas customers.
"We see a clear trend," says Håkan Danström, delivery manager for EG Sweden, "that more and more energy companies are demanding services and not just systems. By delivering both services and systems with our Nordic solution EG Xellent 365, we can be at the forefront both functionally and as a cost-effective alternative for our customers."
EG Utility supplies its solutions to more than 60 Danish and 70 Swedish energy companies.
"In recent years, EG has consolidated the Scandinavian utility industry and invested in EG's Xellent solution for the latest version of Microsoft Dynamics 365, which is now proving its value in the Swedish energy market. We now have five customers using the solution. With the gas companies as references, we see D365 Xellent standing up well against the competition, and I therefore expect 2021 to be the major breakthrough for this solution," says Rasmus Dalby Martinussen, EG Utility.
About Stockholm Gas

Stockholm Gas AB (SGAB) sells natural gas, biogas and town gas to households, restaurants, industry and the automotive sector. SGAB does this with its feet in tradition, its heart in the customer's needs and its eye on a sustainable future where biogas dominates. Through a long-term approach, transparency and customer focus, SGAB wants to be the obvious choice of Stockholmers – and one of Sweden's leading gas suppliers.
For more information about the organisation and its work, see: www.stockholmgas.se/


About Gasnätet Stockholm
Gasnätet Stockholm AB (GSAB) owns the gas grids in the Stockholm area and is responsible for their development, operation and maintenance. The gas grids currently consist of about 50 kilometres of gas pipes for town gas in Stockholm, Solna and Sundbyberg, and a forty-kilometre autogas grid. GSAB has a vision of helping to contribute to a sustainable city in which gas is a natural part of everyday life for households, businesses and road users.
For more information about the organisation and its work, see: www.gasnatetstockholm.se/

About EG
EG is a Scandinavian software company with over 1,400 employees. The company works from over 20 offices in Scandinavia and Poland. We develop, deliver and service our own software to 21,000 customers in the private and public sectors.
For more information about the organisation and its work, see: eg.se and eg.se/it/energi/xellent/


Contact for further information
Questions regarding Stockholm Gas:
Jessica Engelbrecht, Marketing Manager Stockholm Gas AB, jessica.engelbrecht@stockholmgas.se tel. +46 (0) 70 315 52 07
Questions regarding Gasnätet Stockholm:
Karl Oskar Apel, Communications Officer Gasnätet Stockholm AB, karloskar.apel@gasnatetstockholm.se, tel. +46 (0) 70 216 57 62
Questions regarding EG Utility:
Director Rasmus Dalby Martinussen, radan@eg.dk, tel. +45 7220 7730