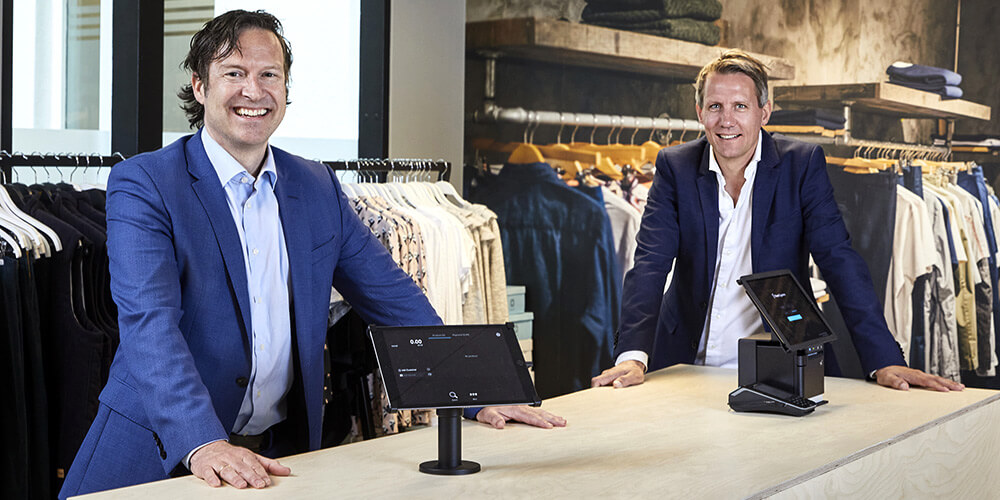 02. June 2021
EG acquires Front Systems AS and strengthens the focus on digitalisation of the retail industry
EG has acquired the innovative SaaS company Front Systems AS and thereby strengthens its position as a preferred partner of digital solutions for the retail industry in the Nordic region.
Within retail the customer journeys often begin digitally, even though most end in the store. The behavioral changes within retail trade have been reinforced by Covid-19, where the industry in record time has adapted to new purchasing processes. The customers today decide how and when to shop, supported by new digital solutions that support seamless shopping experiences based on the customer's preferences.

Strengthening existing offer
With the acquisition of the Norwegian company Front Systems AS, EG is strengthening its existing range of IT solutions for the retail industry with a user-friendly cloud-based solution for stores and retail chains. The solution will complement EG's existing solutions for larger retail chains in the Nordic region.
In the Front Systems solution, all sales channels are combined in real time, enabling all store employees to deliver seamless in-store shopping experiences.
"As one of the market-leading suppliers of industry-specific software for several industries, including retail, we want to give our customers the same digital opportunities to compete whether you are an independent store or a larger international chain. With the acquisition of Front Systems, we can ensure that stores, retail chains and brand stores have access to the best tools, no matter where they are on their digital journey and which challenges, they face," says Mikkel Bardram, CEO of EG.
"Retail trade is an industry that is changing, with new digital solutions helping to create better and more uniform shopping experiences across the channels the customer prefers during their buying process. The retail industry has been creative in adopting new solutions during the demanding Covid-19 period, where we have developed and delivered new and improved digital solutions matching changes in buying behavior because of various restrictions and changing needs," says Erik Tomren, Executive Director of EG Retail.
This makes him very pleased to take over Front Systems with their 28 employees.
"With the acquisition of Front Systems, EG is now one of the strongest and most experienced suppliers of digital solutions to the retail industry in the Nordic region. We want to engage the whole market and strengthen our position significantly within e.g. the fashion sector. The company culture at Front Systems is unique and very well suited to EG. We look forward to working closely with Front Systems in the future," says Erik Tomren.

Further growth in Denmark
Marius Lindholt, CEO of Front Systems, is excited to be a part of EG.
"EG is a solid and recognized player in the Nordic market, and they support Front Systems' vision. With its in-depth expertise from the industry, and not least in technology, EG will make a very positive contribution to the further development of Front Systems. With EG as owner, we will have access to expertise and resources that enable us to further accelerate innovation and development, and thereby maintain our position as one of the most innovative players in the market. Front Systems has established itself in Denmark, and we look forward to further growth in the Danish market together with EG."
With the acquisition of Front Systems, EG Retail will have 190 employees delivering solutions to more than 500 customers with over 8,000 stores in more than 20 countries.
EG has acquired Front Systems AS at 1 June 2021. The seller and buyer have agreed not to disclose further details of the sales price and other terms of the transaction.

About EG
EG provides vertical software that enables customers to further develop their business. EG has more than 1,500 employees who primarily work at locations in Scandinavia and at a joint development center in Poland. We develop, deliver and service our own software for more than 21,000 customers in the private and public sectors.
EG Retail's IT solutions contribute to the digital transformation within the retail industry and increase the chain's competitiveness. Our solutions are designed to contribute to seamless customer experiences, increased sales, improved profitability and increased loyalty among the chain's customers.
About Front Systems
Front Systems develops and delivers a Unified Commerce platform for retail. Front Systems' vision is to make physical stores the core of the customer journey, and the very heart of the retail trade. The company makes it possible for all store employees to deliver good shopping experiences across channels.
More information
For further information, please contact:
Erik Tomren, EVP EG, + 47 992 96 943, ertom@eg.no
Marius Lindholt, Adm. dir. Front Systems AS, +47 481 17 916, marius@frontsystems.com