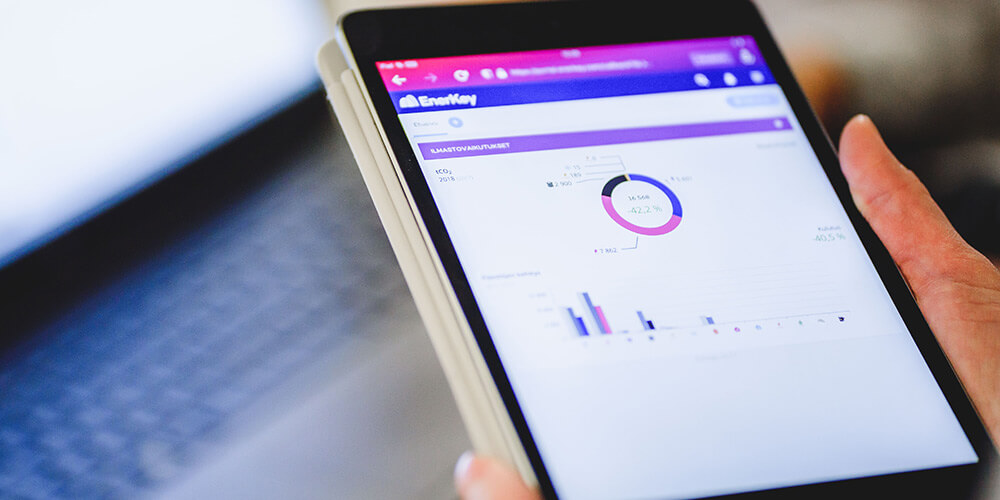 27. May 2021
EG acquires the key to reduce carbon emissions based on data
The global climate threat has created a high demand for digital solutions, enabling companies and organizations to monitor actual consumption data on energy, fuel and other utilities and reduce carbon emissions. That's why EG acquires a green tech-company and at the same time enters the Finnish market.
- It is great that there is a lot of focus on setting ambitious targets for a reduction of carbon emissions. Now we need to support the ambitions with clear actions and be able to prove that we are going to achieve the targets. With the acquisition of EnerKey we have the right tool to help our customers take effective action to reduce their energy consumption based on real time data and be able to report on the effect, says CEO, Mikkel Bardram, EG.
EG's newest acquisition, EnerKey, with 65 employees, is a market leading provider of Sustainability and Energy Management Systems, (SEMS) in Finland, specialized in assisting customers monitor and act on their energy and utilities consumption to increase focus on sustainability, lower cost and a reduction in the carbon footprint.

To Mikkel Bardram EnerKey is just the company EG has been looking for:
- Companies and organizations all search for ways to take positive climate action and comply with the forthcoming EU-regulation on non-financial disclosure, including the reporting on key figures on consumption of power, water and other utilities. We want to ease that burden, making it easier for our customers to implement their climate action plans and report on the effect of them, Mikkel Bardram says.
- With the addition of EnerKey, EG will be able to support and strengthen the offerings for our customers in their strides towards becoming increasingly sustainable and carbon neutral, says CEO Mikkel Bardram, EG A/S.
- EnerKey has proven that users of our Software as a Service (SaaS) product can achieve very concrete savings and reach their sustainability targets. EnerKey has successfully started to internationalize and now with our new home in EG we can see that we can accelerate our internationalization and growth, says CEO, Ilari Anttila, EnerKey.
Today EnerKey serves more than 1,500 customers, including 59 of the Top 100 corporates in Finland, such as utility companies, large retail-chains and public sector companies. An example of EnerKey's customers is leading Finnish retail player Kesko, who has been elected the most sustainable retail player in the world 7 times in a row and is achieving savings worth of 5 million Euro annually. As part of EG, EnerKey will go further, expanding to all the Scandinavian countries.
The acquisition of EnerKey with headquarter in Helsinki has also kicked in the door to the Finnish market for EG in general:
- We have so far concentrated on the Danish, Norwegian and Swedish markets. Now Finland has become a natural part of the scope for our vertical software solutions and services, says Executive Vice President, Johnny Iversen, EG.
As EnerKey handles utility consumption data the company will be part of the EG Utility vertical:
- EnerKey fits perfectly with our existing billing software for Utility. Consumption data is the new currency. With the knowledge and the systems from EnerKey we can offer our customers a whole new line of intelligent software, that will turn their data into the knowledge they need, says director Rasmus Dalby Martinussen, EG Utility.
Among others, EnerKey has a built-in feature based on AI, Artificial Intelligence, called Ines, that automatically finds energy and CO2-saving potentials from property consumption data.
- We will invest in Ines, expanding its area of operation while automatically finding new, different energy and emission-saving potentials. This will add great value to all companies focusing on the green transition and cost saving, says Executive Vice President, Johnny Iversen, EG.
EG and the owner of EnerKey, Vaaka Partners, have signed an agreement regarding EG's acquisition of the shares in EnerKey. Completion of the transaction will take place on 2 June 2021.
The seller and the buyer have agreed not to disclose further details concerning the sales price and other terms of the transaction.

About EG
EG delivers vertical software that helps our customers move their businesses further. 
EG has more than 1,500 employees, working primarily from locations in Scandinavia and a shared development center in Poland.  We develop, deliver and service our own software to 21,000+ customers in the private and public sectors. 
Find out more at global.eg.dk/about-eg/

About EnerKey
EnerKey Sustainability & Energy Management System (SEMS) is one of the leading cloud-native SaaS solutions in the Nordic countries, for enterprises to manage resource data, energy consumption and sustainability. It holds ISO 50001 and ISO 14001 certification. The sustainability features include emissions reporting, waste reporting, traffic fuel monitoring and indoor air quality. EnerKey SEMS is used by more than 1,500 customers. EnerKey manages resource data generated by more than 140,000 measurement points across 20,000 properties. Powered by EnerKey is a white label platform solution for energy companies, utilities and SaaS providers, who want to offer EnerKey´s market-leading tools to their end-customers, branded with their own logo and visual appearance.
Find out more at www.enerkey.com



For further information, please contact:
Johnny Iversen, EVP, EG Public, +45 2088 7366 / joika@eg.dk
Ilari Anttila, CEO, EnerKey, +358 40 526 3133 / ilari.anttila@enerkey.com