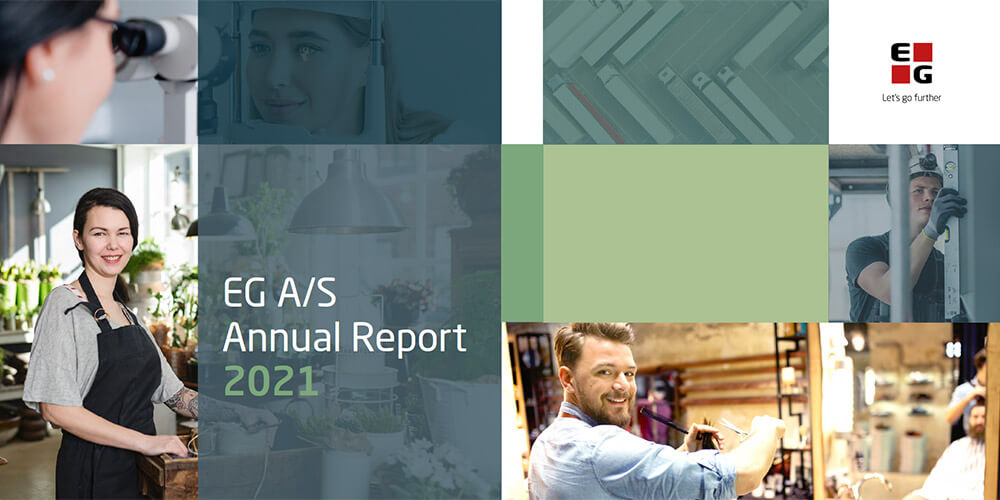 05. April 2022
EG grew revenue by 22% and strengthened its Nordic market position in 2021
Copenhagen, 5 April 2022 - EG, a market leading vendor of Nordic vertical software, today published its annual report and separate ESG report for 2021
EG's revenue grew by 22% compared to 2020, resulting in revenue of DKK 1,755 million. The progress is driven by continued organic growth and acquisitions across the Nordic region.
Recurring revenue, which is highly predictable and stable, increased 27% and accounted for 78% of total revenue in 2021. While earnings (adjusted EBITDA) increased by 32% to DKK 576 million, corresponding to an adjusted EBITDA margin of 32.8% - an increase in the EBITDA margin of 2.4 percentage points compared to 2020.
"EG has undergone a significant transformation over the last three years, where the company has had a very significant growth in our recurring revenue and at the same time has successfully acquired no less than 25 companies across the Nordic region. EG is strongly positioned to continue the impressive growth journey in the years to come. All the achieved results are due to a very dedicated management team and not least a great effort from our employees, who every day assist our many customers across the Nordic region in digitalising and improving their businesses," says Klaus Holse, Chairperson of EG.
In 2021, EG strengthened and expanded its market position with 12 acquisitions, three of which were in Finland, which means that EG now has a solid foothold across all Nordic countries.
"In 2021, we continued to organically strengthen our position through new product launches and by adding new customers across industries and markets. All measures which contributed to an 8% organic recurring revenue growth. At the same time, we cemented our Nordic position inorganically through further acquisitions in growth areas, such as the construction sector and the energy sector, where our industry-specific solutions contribute positively to the development of these sectors," says Mikkel Bardram, CEO of EG and continues:
"In 2021, EnerKey in Finland became part of the EG family. Enerkey is a market-leading provider of climate and energy saving solutions, which in addition to expanding our offering to existing utility customers, allows us to assist customers across industries with energy savings and in achieving their climate goals. The strong performance and improved profitability in 2021 testify to the strength of our strategy to focus our investments in growth areas that drive organic growth, as well as our ability to quickly and efficiently integrate acquired businesses through our joint EG Operating Model."
EG has positive financial expectations for 2022 and predicts a year of continued high growth and strengthening of the company's leading Nordic market position. Overall, double-digit revenue growth in line with the 2021 growth level is expected to be driven by continued growth in subscription-based revenue. Further, it is expected that the reported EBITDA margin will be on the same level as realised in 2021.
Additional information
Spokesperson
Mikkel Bardram, CEO, EG
Press contact
Communication Manager Per Roholt, +45 2060 9736

About EG
EG is a market leading vendor of industry-specific, standard software for private and public customers in the Nordics. EG's Software-as-a-Service offerings are developed by specialists with deep industry and domain knowledge, supporting business-critical and administrative processes. EG employs 1600+ employees primarily in the Nordics. The Group's revenue in 2021 was DKK 1,755 billion.
Read more about EG at global.eg.dk