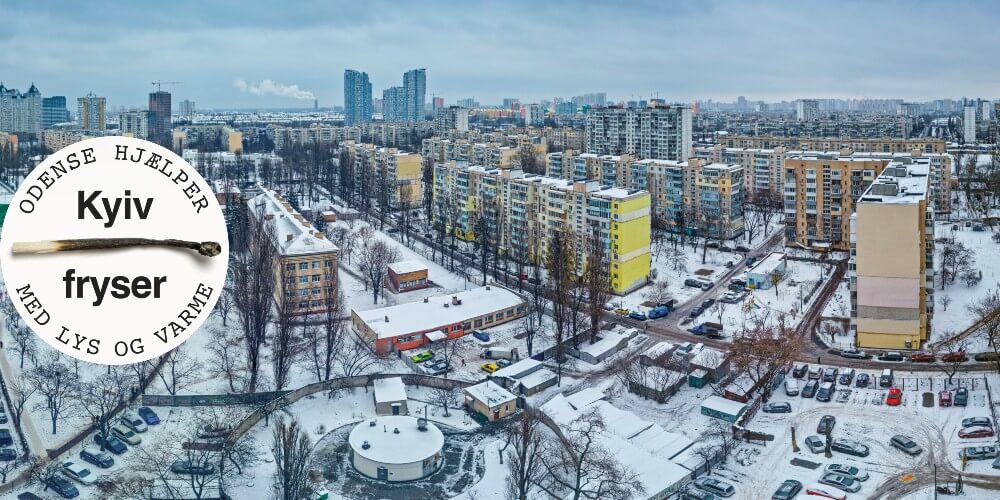 02. December 2022
The employees' Christmas donation goes to electricity and heating in Ukraine
The employees in EG donate a total of DKK 262.500 to benefit the charity "Kyiv Fryser"/"Kyiv is Freezing", which provides electricity and heat in Kyiv.

Every year the employees at EG are offered the opportunity to exchange their company Christmas gift for a donation to charity which EG then doubles as a monetary donation. On top of that, the donation is the default those employees who do not actively choose between a gift or a donation themselves.
This year, the donation will go to humanitarian aid in favor of Ukraine, and it has been supported by a record number of employees, bringing the total donation to DKK 262,500.
"I am happy that, together with our employees, we can support the citizens of Ukraine with humanitarian aid, so that they can get through the winter just a little bit better," says CEO Mikkel Bardram, EG.
An employee committee has chosen that the donation should be channeled to Ukraine via the charity "Kyiv is Freezing".
Behind the intiative is the Danish Municipality of Odense and Odense City Rotary Club in collaboration with media houses Fyens Stiftstidende and TV2 Fyn. They are supported by several companies, organizations, and private individuals, who in a few days have donated almost DKK 3 million to the charity.
All the money collected goes directly to generators, tents, window film, electric heaters and other means to keep people warm and create light.
Rotary in Demark cooperates directly with Rotary in Kyiv securing that all donations go quickly and uncut to Kyiv - without any administration fees.
"For EG's employees, it has been natural to donate to Ukraine, especially because we have 20 Ukrainian colleagues", says director Steffen Rugtved, who is head of the Ukrainian employees who normally work in Odesa.
"Nine of the 20 employees still work in Ukraine when they have power", says Steffen Rugtved.
The other 11 still work for EG, but now in other countries, just as one now lives in Denmark with his wife.
"We have been colleagues for more than 10 years, and they are still part of EG, regardless of where they are, and with the donation we are sending a clear signal that we support Ukraine. At the same time, we hope that we can help reduce suffering a little bit this winter", says director Steffen Rugtved.
Earlier this year, EG as a company donated DKK 250,000 to the national fundraiser "Together for Ukraine".

Support "Kyiv is Freezing"
Behind "Kyiv is Freezing" is Odense City Rotary Club in collaboration with the Municipality of Odense, which is twinned with Kyiv and the media houses Fyens Stiftstidende and TV2 Fyn. Everyone can support with an amount of their choice – both as a private person and as a company.
Follow the link to see how you can contribute https://odensecityrotary.dk/varme-til-kyiv