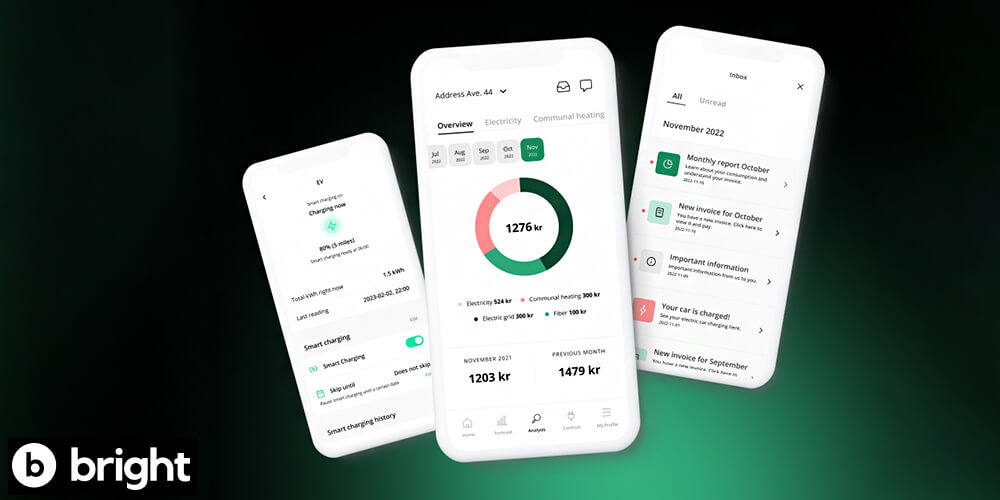 08. November 2022
Bright Energy and EG launches new collaboration
The need for innovative solutions regarding energy consumption and energy efficiency is increasing heavily due to rising electricity prices. Today, we see rising end customers demand towards utilities, which in turn from time to time struggle to live up to the rapidly changing requirements.

Through a new strategic collaboration, Bright Energy and EG together create foundation for utilities to meet the growing needs of end customers more quickly.
- Bright Energy has developed an app that can manage all utilities,from electricity trading, electricity grids and district heating to broadband, water & sewage and waste. Therefore, we are very happy to be able to offer our customers this unique arrangement, says Håkan Danström, responsible for EG Utility in Sweden.

App for the service offer
The collaboration means that EG will be able to offer Bright's app to EG's customers. It is a completely new technical set-up, where utilities can focus on rolling out their app, without extra integration.
In a digital solution where utilities are revolutionizing their relationship with end consumers, improve the service offering and provide customers with tools to understand, control and manage their energy consumption - all in a simple app.
- The cooperation with EG is absolutely crucial for how quickly utilities can roll out the app and allows them to focus on content and their end customers instead of integration projects says Patrik Larm, CRO at Bright Energy.

About Bright Energy
The company was founded just over 10 years ago, then as an independent electricity trader with the goal of helping customers reduce their electricity consumption, environmental impact and costs in various smart and sustainable ways. Today, the Saas company Bright Energy delivers a platform that help utilities sharpen their offers. This involves, among other things, giving customers an overview of their electricity use, sending push notifications when electricity is cheap or the ability to control the heating in the home and smart charging to avoid peak hours.
About EG
EG is a market-leading supplier of Nordic industry-specific software for private and public customers. EG's Software-as-a-Service solutions are developed by specialists with deep industry knowledge that support customers' business-critical and administrative processes. EG employs more than 1,700 people, mainly in the Nordics. The group's turnover in 2021 was 1.755 billion DKK.

Read more under global/eg.dk

Additional information
EG
Director Håkan Danström, EG Utility, +46 731 46 78 72, hsven@eg.se
Bright Energy
CRO Patrik Larm, +46 708 64 28 63, patrik.larm@getbright.se