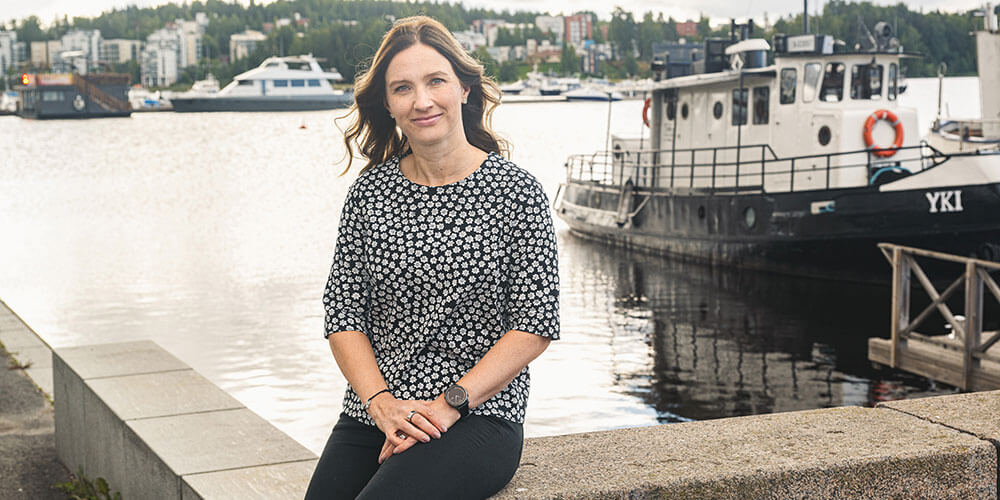 21. November 2022
"It's a cliche, but it's true: you learn something new every day"
In this series, you can meet some of the women who work for EG. Here is Eija Kestilä from EG EnerKey Oy in Finland.
"I like the fact that what I do is meaningful, so both my job and other aspects of my life are important," says Eija Kestilä. She is Director of EG EnerKey, which provides solutions that make Finnish companies more energy-efficient and sustainable.
Eija Kestilä from Finland has high ambitions for her job, not only to make a difference to the world but also to take advantage of the opportunities which working life gives her to be a whole person.
She is Director of EG EnerKey Oy, a market-leading supplier of sustainability and energy management systems (SEMS) in Finland.
The company specialises in helping customers monitor and act on their energy consumption and power usage to increase their sustainability focus and ensure lower costs while also reducing their carbon footprint.
"It makes sense for everyone, and now that we're in an energy crisis, it's even more important to know your consumption and ways to reduce it," says Eija.

From gaming to tech
She was a young gamer who only became interested in computer science after taking a master's degree in economics. She then studied teaching science and management, among other things.
"I chose EG because I wanted to work with product development and also because it's important to me to have a job that is meaningful. Helping our generally large customers save energy and become more sustainable brings everyone value, as it benefits the environment for both us and our children. This helps us to stay motivated. I started out as a developer, but quickly moved into management and was given leadership responsibility. We have an excellent team and work together to achieve our common goals. An important driver for me as a leader is to trust people and give them the tools, support and freedom they need."

Choose what you want to be good at
EG EnerKey Oy is located in Jyväskylä in Central Finland. Here, Eija's free time is spent with her two grown-up daughters, a Portuguese Water Dog, as the breed is called, cycling in summer and cross-country skiing in winter.
"I like the fact that what I do is meaningful, so both my job and other aspects of my life are important. IT is never boring. There's so much that you don't know. It's a cliche, but it's true: you learn something new every day. You have to choose what you want to be good at, but you will get better!"